BANQUET / MEETING
BANQUET / MEETING

Banquet hall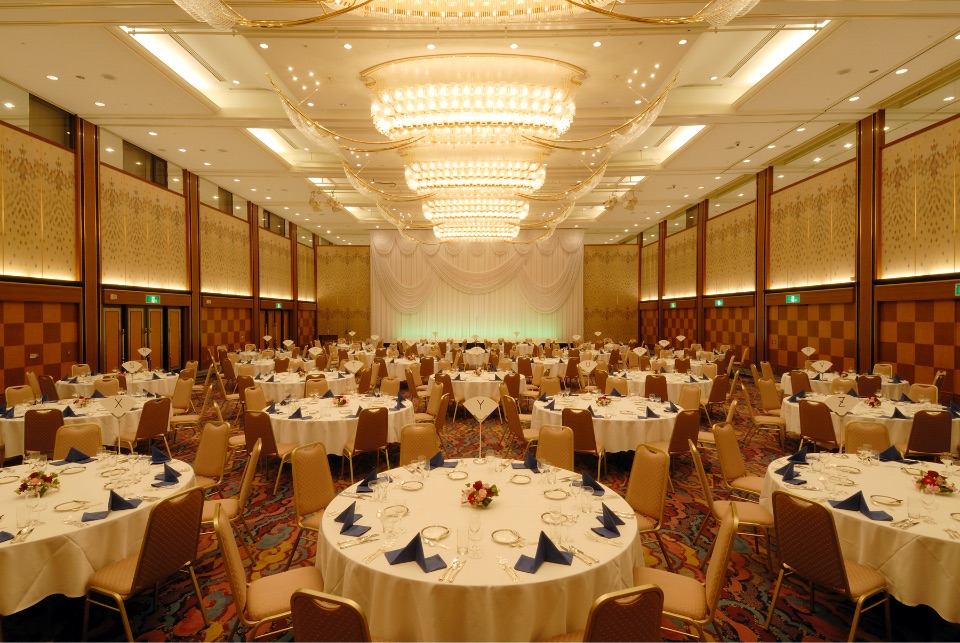 Venue
Area
Capacity
Banquet hall fee
Basic sound lighting
m²
Ceiling(m)
Dinner
Buffet
School
Theater
Meal
Meeting
Exhibition
(2H)JPY
(Up to 2H)JPY
add (1H)JPY
(8H)JPY
OTORI
596
7.0
360
500
340
650
72,000
363,000
181,500
1,936,000
11,000
(East)
228
130
170
130
220
30,250
169,400
84,700
–
(Center)
187
100
120
110
180
24,200
145,200
72,600
–
(West)
181
100
120
105
180
24,200
145,200
72,600
–
(East+CenterⅠ)
321
180
200
185
340
42,350
242,000
121,000
–
(West+CenterⅡ)
274
160
180
160
290
30,250
181,500
90,750
–
(East+Center)
414
250
330
240
430
48,400
302,500
151,250
1,367,300
(West+Center)
368
210
290
210
370
48,400
242,000
121,000
1,185,800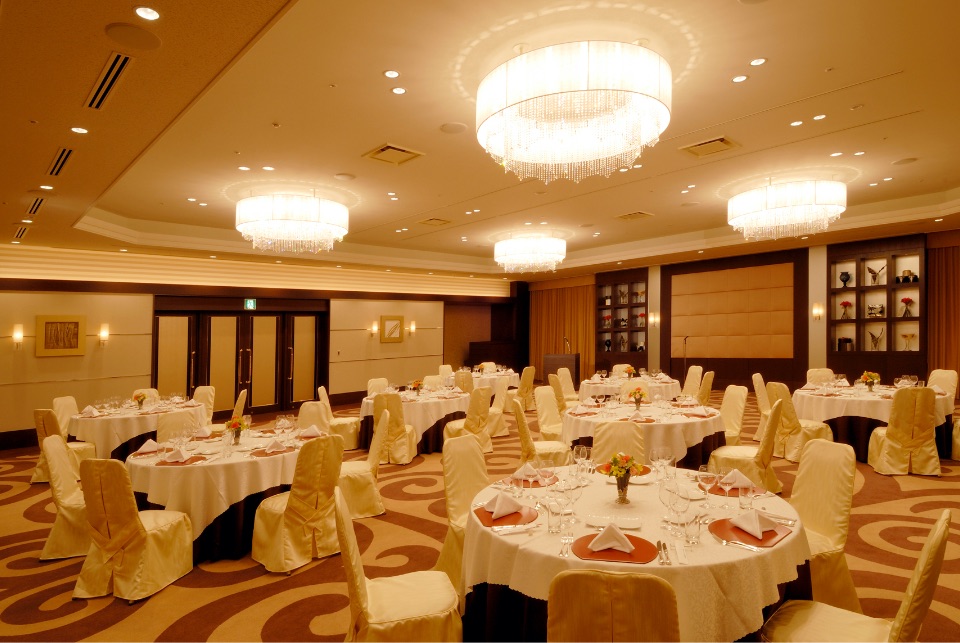 Venue
Area
Capacity
Banquet hall fee
Basic sound lighting
m²
Ceiling(m)
Dinner
Buffet
School
Theater
Meal
Meeting
Exhibition
(2H)JPY
(Up to 2H)JPY
add (1H)JPY
(8H)JPY
SHINJU
327
3.8
134
220
210
–
48,400
242,000
121,000
907,500
11,000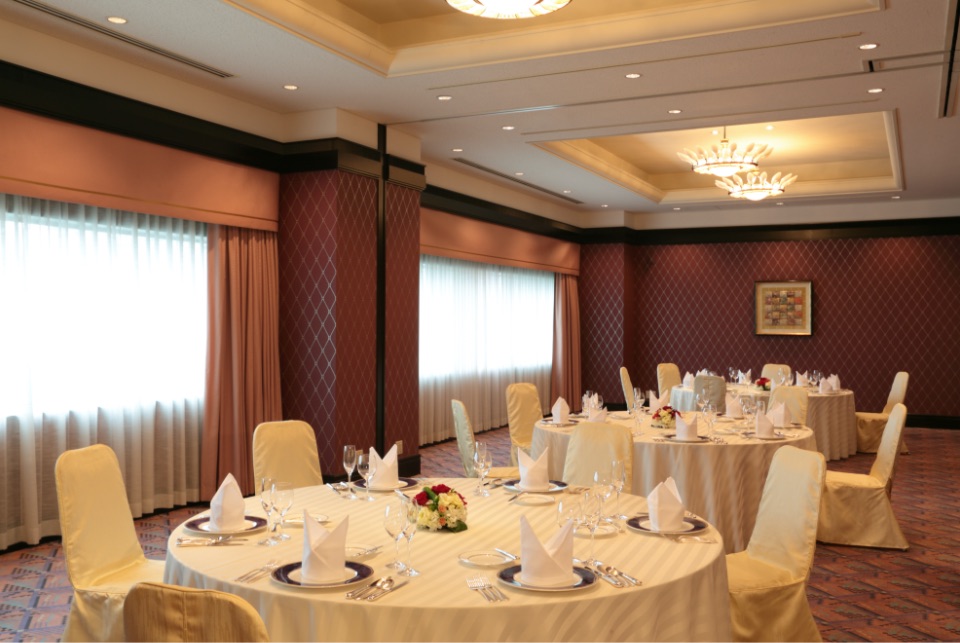 Venue
Area
Capacity
Banquet hall fee
Basic sound lighting
m²
Ceiling(m)
Dinner
Buffet
School
Theater
Meal
Meeting
Exhibition
(2H)JPY
(Up to 2H)JPY
add (1H)JPY
(8H)JPY
TAKASAGO / SUEHIRO
99
3.0
34
45
60
90
12,100
48,400
24,200
242,000
5,500
(I)(II)
49
16
–
30
40
6,050
24,200
12,100
–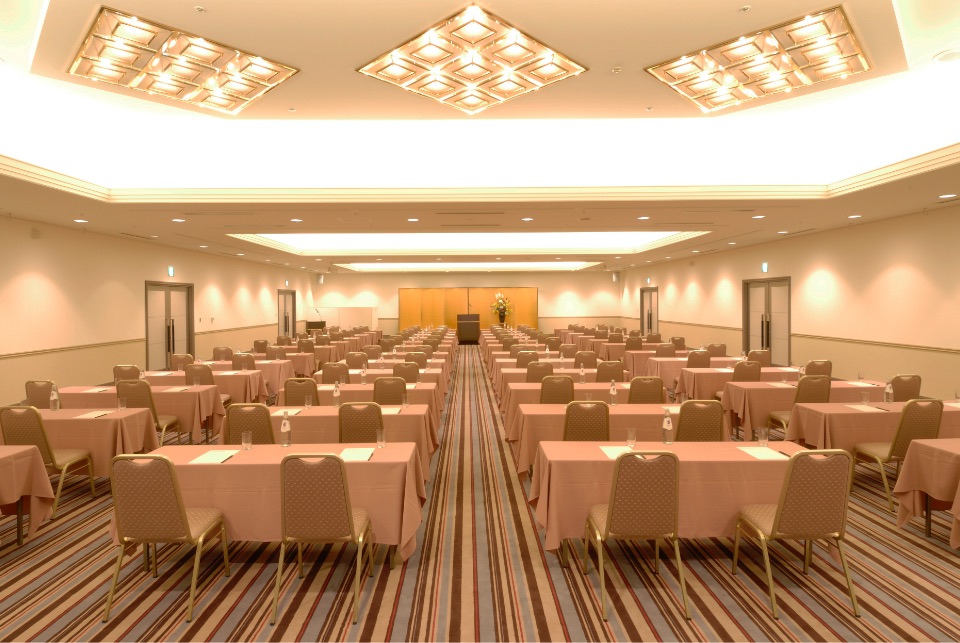 Venue
Area
Capacity
Banquet hall fee
Basic sound lighting
m²
Ceiling(m)
Dinner
Buffet
School
Theater
Meal
Meeting
Exhibition
(2H)JPY
(Up to 2H)JPY
add (1H)JPY
(8H)JPY
CRYSTAL ROOM
308
3.8
160
210
200
320
48,400
181,500
90,750
847,000
11,000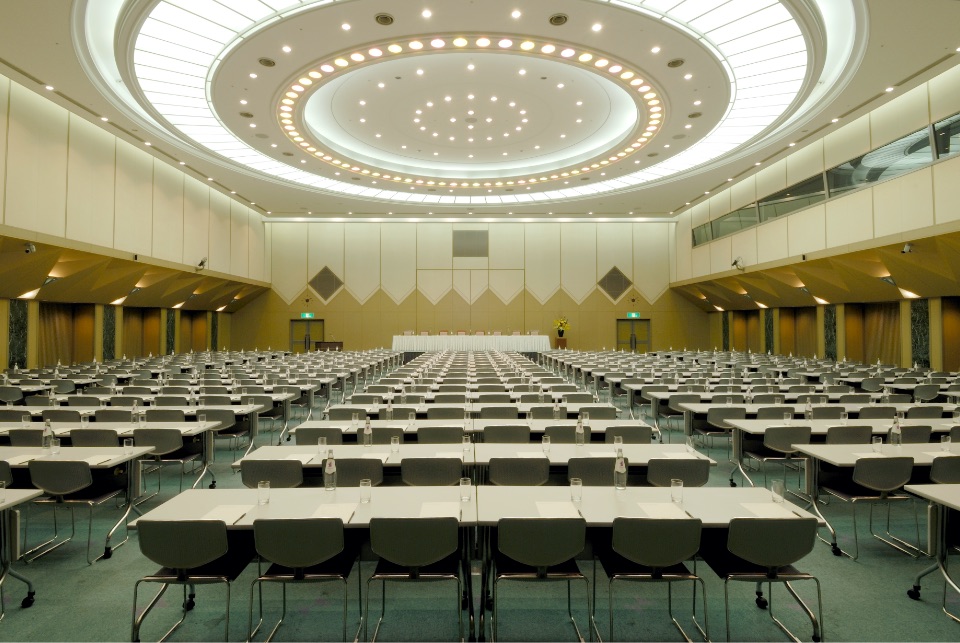 6F
RICC INTERNATIONAL CONFERENCE HALL
Venue
Area
Capacity
Banquet hall fee
Basic sound lighting
m²
Ceiling(m)
Dinner
Buffet
School
Theater
Meal
Meeting
Exhibition
(2H)JPY
(Up to 2H)JPY
add (1H)JPY
(8H)JPY
RICC HALL
800
7.5
450
700
550
850
96,800
423,500
211,750
2,057,000
11,000
Small Banquet Room
100
40
45
54
90
12,100
48,400
24,200
242,000
5,500
Small Banquet Room 1/2
46
20
–
24
40
6,050
24,200
12,100
242,000
5,500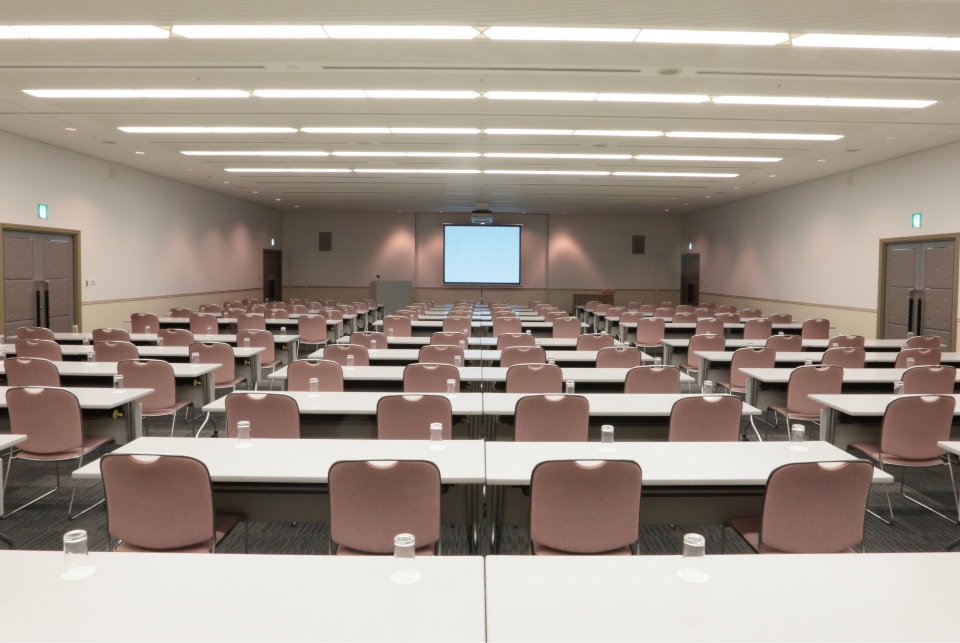 6F
AQUAMARINE INTERNATIONAL CONFERENCE HALL
Venue
Area
Capacity
Banquet hall fee
Basic sound lighting
m²
Ceiling(m)
Dinner
Buffet
School
Theater
Meal
Meeting
Exhibition
(2H)JPY
(Up to 2H)JPY
add (1H)JPY
(8H)JPY
AQUAMARINE
350
3.5
180
240
240
420
48,400
242,000
121,000
907,500
11,000
(I)
191
100
130
120
250
30,250
145,200
72,600
–
(II)
158
80
100
100
160
18,150
96,800
48,400
–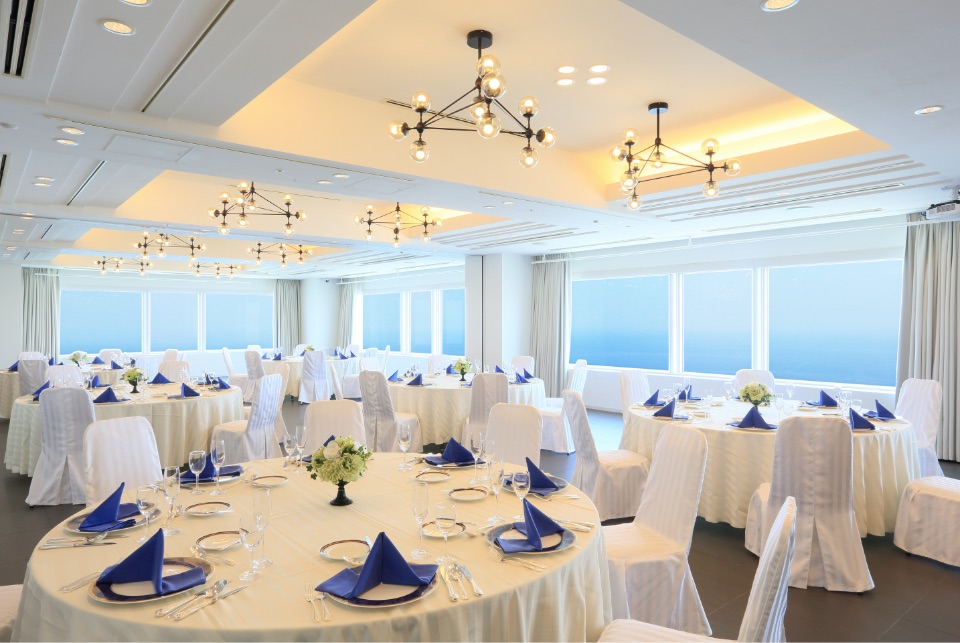 Venue
Area
Capacity
Banquet hall fee
Basic sound lighting
m²
Ceiling(m)
Dinner
Buffet
School
Theater
Meal
Meeting
Exhibition
(2H)JPY
(Up to 2H)JPY
add (1H)JPY
(8H)JPY
TSUBASA
255
3.0
120
140
–
–
60,500
205,700
102,850
968,000
11,000
3F
KATSURA / KIRI / AOI / FUJI
Venue
Area
Capacity
Banquet hall fee
Basic sound lighting
m²
Ceiling(m)
Dinner
Buffet
School
Theater
Meal
Meeting
Exhibition
(2H)JPY
(Up to 2H)JPY
add (1H)JPY
(8H)JPY
KATSURA
60
3.0
24
25
35
50
6,050
31,460
15,730
193,600
5,500
(I)(II)
30
16
–
18
25
3,025
15,730
7,865
–
12
KIRI
53
22
20
30
40
6,050
31,460
15,730
169,400
AOI
53
22
20
30
40
6,050
31,460
15,730
169,400
FUJI
32
12
–
18
25
3,630
15,730
7,865
87,120
–
Various charges
Recording・Projection
| | |
| --- | --- |
| Recording(1h) | ¥11,000 |
| Recording overtime charge(Par hour) | ¥5,500 |
| Pin spot | ¥33,000 |
| 120inch Screen | ¥11,000 |
| 250inch Screen | ¥27,500 |
| DVD Player | ¥5,500 |
| Wireless microphone | ¥3,300 |
| Karaoke | ¥22,000 |
Basic sound lighting
| | |
| --- | --- |
| Large banquet hall | ¥11,000 |
| Medium banquet hall | ¥11,000 |
| Small banquet hall | ¥5,500 |
| Operator | ¥33,000 |
Flower decoration
| | |
| --- | --- |
| Tabeltop flower | ¥3,630~ |
| Small tabletop flower | ¥2,420~ |
| Mealtabel flower | ¥30,250~ |
| buquet | ¥3,300~ |
| Vase flower | ¥33,000~ |
| Stand flower | ¥16,500~ |
| Corsage | ¥5,500 |
Directing
| | |
| --- | --- |
| Electone use fee | ¥16,500 |
| Grandpiano use fee | ¥22,000 |
| Tuning fee | ¥33,000 |
| Master of ceremonies | ¥88,000~ |
Signboard
| | |
| --- | --- |
| Hanging sign (450×3600) | ¥38,500 |
| Hanging sign (600×4500) | ¥44,000 |
| Hanging sign (900×5400) | ¥49,500 |
| Hanging sign (900×7200) | ¥55,000 |
| Standing sign | ¥19,800~ |
| Guide plate | ¥8,250~ |
| Program of a ceremony | ¥26,400~ |
Receptant
| | |
| --- | --- |
| Western clothing | ¥17,600~ |
The small meeting room will be on the 5th and 6th floors.
The venue will be available from 9:00 to 22:00.
Overtime use will be 50% more than the basic charge.
A separate fee will be charged for bringing in the conference and exhibition.
Price list is subject change without notice.
The above prices include consumption tax and service charge.